Local Special Snacks
1 The Four Guardians
These are the four gods guarding the gate of heaven in legends. In the old times, Shanghainese would dub their favorite four kinds of Zao Dian as four Guardians as if they were guarded to have a wonderful morning and an assured and satisfying day. The four guardians are made through simple recipes with ordinary materials at rational prices. However , the flavor and nutrition can never be valued by price.
You tiao:Shanghainese like to cut it first ,and eat them with soy souce.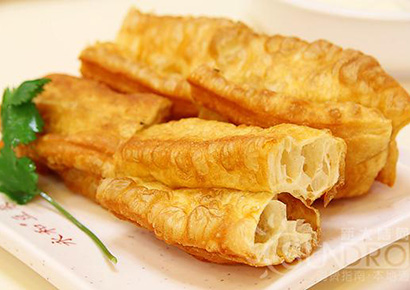 Dabing:Shanghai Dabing usually has two types: the elongated salty Dabing and the round sweet Dabing.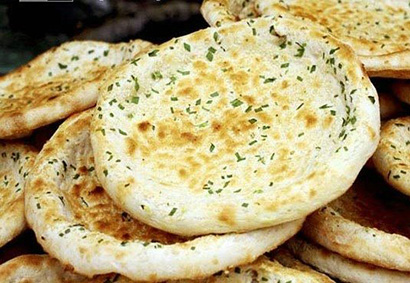 Cifan:It is the rice roll made of steamed glutinous rice .Shanghainese like to enjoy the Cifan with Youtiao wrapped in its centre.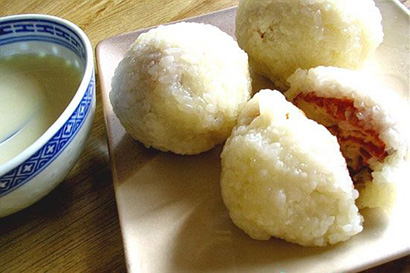 Doujiang (Soybean Milk):Shanghainese preferentially love salt soybean milk mixed with dried small shrimps , minced pickled mustard tuber, laver, delicious soy sauce, chili oil and so on.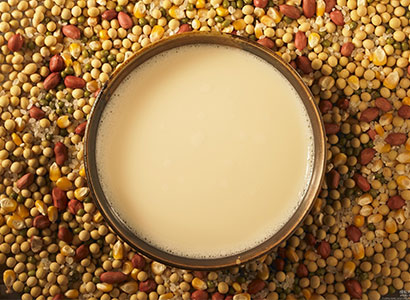 2 Xiaolongbao (Small Steamed Bun)
They are loved and respected as the spokesman of the city mark. Shanghainese usually call them "Xiaolong Mantou", Pork minced "Xiaolongs" are most classical , and once it comes the right reasons ,you can also enjoy crab meat ones.
How to eat: Eat them fresh when they are hot , actually, suck them ,since the tasty soupy stuffing will flow outside.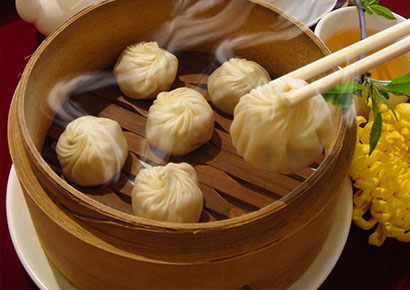 3 Shengjian (Fried pork Bun)
Taken from the pan , the fried pork buns bring the smell of meat, scallions and sesame. Now except the pork minced ones , here are also ones with shrimp, beef or chicken fillings.
How to eat: Shanghainese prefer to eat Shengjian accompanied by a bowl of hot beef noodle soup.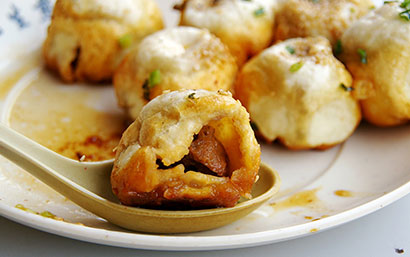 4 Huntun (Small Dumpling Soup)
The wonton wrap is as thin as the fine fabric of yarn, you can see the reddish meat stuffing through the skin , pull the wrap together ,and drop it into boiling water. The whole process is quick and smooth.
How to eat: Take the wonton with the soup, drinking them up one after another.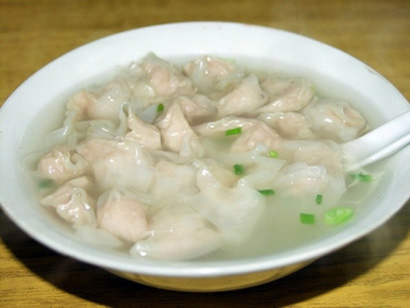 5 Chunjuan (Spring Roll )
Stuffing is carefully mixed and spread on the wrapper. Then it is rolled up and deep fried. In shanghai ,celery cabbage and shredded meat stuffing is most popular. Eating Spring Roll when the springs comes is a tradition in China, meaning people are "biting the spring".
How to eat: When it is just out from the oil , the cute golden delicacy lures you to taste the crispy wrapper and soft stuffing. It is hot and you should eat it very carefully.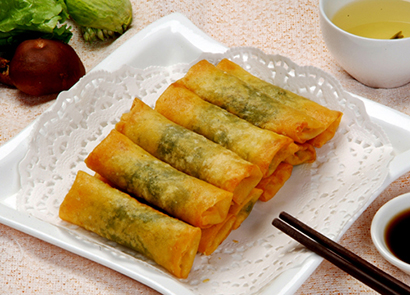 6 Babaofan (Rice Pudding)
It is a routine dish on Shanghainese festival dining table. Usually plays in finale role on New Year Eve. To make Babao Rice Pudding, mostly with lard, when out of the pot , the glutinous rice looks glittering and translucent.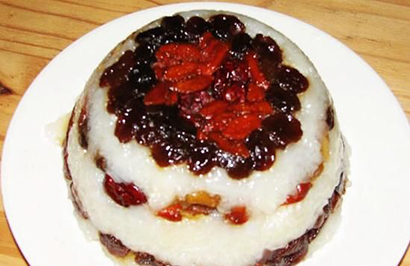 7 Glutinous Rice Balls in Fermented Rice Wine
It is a popular dessert for Shanghainese to enjoy after meal . Sweet osmanthus is often topped to the delicacy before it is finally served.